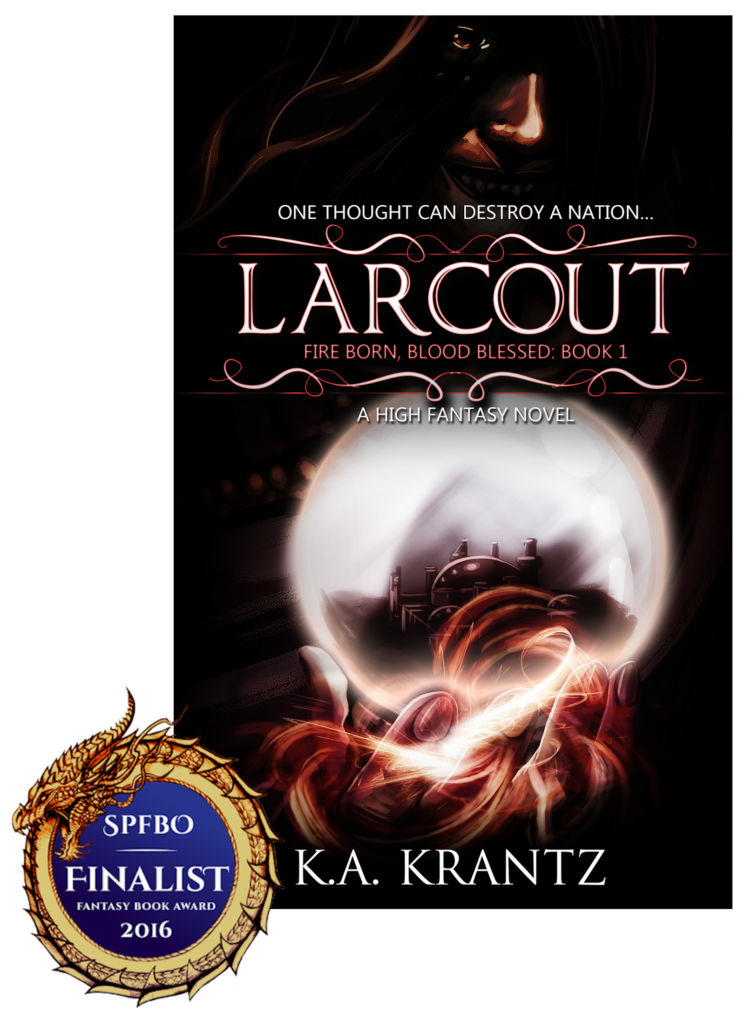 Buy It Now:
Amazon
Barnes & Noble.com
iBooks 
Kobo
Overdrive (for Libraries)
---
Read an Excerpt:
Chapter 1
---
Read the Reviews:
Goodreads
#SPFBO 2016 Finalist
LARCOUT
Fire Born, Blood Blessed: Book 1
Blood-beings can be chattel or char.
Fire seethes through the veins of every Morsam, demanding domination and destruction. Combat is a hobby. Slaughtering the inferior blood-beings is entertainment. Life is a repetitious cycle in the prison fashioned by the gods. But mix-race abomination Vadrigyn os Harlo suspects the key to freedom lies in safeguarding the blood-beings; until her blood-born mother uses foreign magic to turn the Morsam against her. Betrayed, bound, and broken, Vadrigyn struggles against the dying of her essential fire. Yet the ebbing flames unleash the dormant magic of her mixed heritage…
The magic to destroy free will.
Seized by the gods and dumped in the desert nation of Larcout to stop history from repeating, Vadrigyn discovers her mother's legacy of treason and slaughter still festers. To survive the intrigues of the royal court, the roiling undercurrents of civil war, and the gods themselves, Vadrigyn must unravel the conspiracy behind her mother's banishment. But manipulating free will unleashes a torrent of consequences.
If she fails the gods, she will return to the Morsam prison, stripped of all magic and all hope.
If she succeeds, she can rule a nation.
Kasthu. Roborgu. Inarchma.

Live. Learn. Burn.

Cover and formatting by StreetlightGraphics.